Objectives
Search the weapon racks in Ebon Hold for a Battle-worn Sword and then use it on a runeforge to craft a
 [Runebladed Sword].
Return the Runebladed Sword to Instructor Razuvious in Ebon Hold.
Description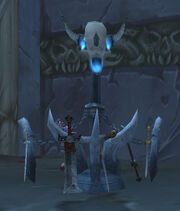 The single most important piece of equipment to a death knight is the runeblade. It is through the runeblade that a death knight commands the powers of frost, blood and the unholy. The runeblade also acts as a vessel to store the death knight's runic power.
The time has come to create your first runeblade. Search the weapon racks on this floor and locate a Battle-worn Sword. Once found, take the sword to a nearby runeforge and use it to create a runeblade.
Rewards
You will learn:

[Runeforging]
You will also receive:
 [Runed Soulblade] and two

 [Runed Soulsaber].
Progress
The runeblade is an extension of your being. A death knight cannot battle without a runeblade.
Completion
Well done, <name>. You have successfully created your first runebladed weapon. With it you will sow the seeds of chaos and destruction! In your wake will be a bloodied field of battle, littered with the corpses of all that would dare oppose the Scourge.
Notes
Runeforges are all over the room.
You will learn the following runes when completing this quest:

[Rune of Cinderglacier] and

[Rune of Razorice]. The rest are available from your class trainer.
Progression
  [8-30] 

In Service Of The Lich King

  [8-30] 

The Emblazoned Runeblade

  [8-30] 

The Endless Hunger

  [8-30] 

The Eye Of Acherus

  [8-30] 

Death Comes From On High

  [8-30] 

The Might Of The Scourge

  [8-30] 

The Scarlet Harvest

Complete all of:
  [8-30] 

Gothik the Harvester

  [8-30] 

An Attack Of Opportunity

  [8-30] 

Massacre At Light's Point

  [8-30] 

Victory At Death's Breach!

  [8-30] 

The Will Of The Lich King

  [8-30] 

The Crypt of Remembrance

Side chain:

  [8-30] 

The Plaguebringer's Request

  [8-30] 

Noth's Special Brew

  [8-30] 

More Skulls For Brew

(repeatable)

  [8-30] 

Nowhere To Run and Nowhere To Hide

&   [8-30] 

Lambs To The Slaughter

  [8-30] 

Behind Scarlet Lines

  [8-30] 

The Path Of The Righteous Crusader

&   [8-30] 

Brothers In Death

  [8-30] 

Bloody Breakout

  [8-30] 

A Cry For Vengeance!

  [8-30] 

A Special Surprise

  [8-30] 

A Sort Of Homecoming

  [8-30] 

Ambush At The Overlook

  [8-30] 

A Meeting With Fate

  [8-30] 

Scarlet Armies Approach...

  [8-30] 

The Scarlet Apocalypse

  [8-30] 

An End To All Things...

  [8-30] 

The Lich King's Command

  [8-30] 

The Light of Dawn

  [8-30] 

Taking Back Acherus

  [8-30] 

The Battle For The Ebon Hold

  [8-30] 

Where Kings Walk

or   [8-30] 

Saurfang's Blessing
Patch changes
External links