Objectives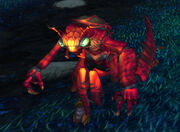 Kill 12 Krik'thik attackers at the Gao-Ran Battlefront.
Description
Gao-ran's men need help down on the southern front. If you want to stand by the Shado-Pan, that's where you should do it.
Rewards
You will also receive: 11

Progress
Our vigil is never-ending.
Completion
The men of the blockade are growing to respect you. You clearly know how to fight.
Gains
Notes
Pick up

 [25-35] Back on Their Feet and

 [25-35] Rummaging Through the Remains before heading out.
Immediately to the southwest is the main blockade. Limbpincers are swarming, so help take them out. The limbs themselves pop off the corpses and appear on the ground. Look for units specifically called Injured Gao-Ran Blackguard to heal.
Progression
Optional breadcrumb:

 [25-35] Gao-Ran Battlefront
Patch changes
External links