Objectives
Drag the Abandoned Bloodwash Crate to the Forbidden Sea off the coast of the Red Reaches.
Description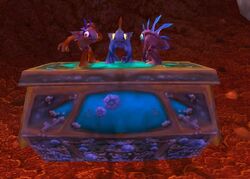 The Rockpool tadpoles left upon this crate appear tired, scared, and nearly dried out. They need to be taken to the water, and quickly.
Perhaps if you can drag this crate across the beach and into the Forbidden Sea, far off the coast of the Red Reaches, then they will have a chance of escaping, and the Rockpool murlocs may live on...
Rewards
You will receive: 85

Completion
The Rockpool tadpoles float off into the distance, thankful and safe.
Notes
Pick up the quest outside of Bloodwash Cavern by investigating one of the nearby abandoned crates with the baby murlocs on top.
<These baby Rockpool murlocs seem to have been abandoned here. You suspect that they are in trouble, and that Neptool would want you to bring them back to the ocean, where they stand a chance of escaping the naga.>
 <Help the Rockpool tadpoles.> (This begins the quest. Your character will begin lugging the crate with a rope.)
 <Leave them to fend for themselves.> (This drops the conversation.)
On entering combat, you will drop the crate. On using the crate after it is dropped:
<These baby Rockpool murlocs look toward the ocean.>
 <Continue helping the Rockpool tadpoles.>
Take the murlocs to the water and swim until you reach the Forbidding Sea. The quest will complete automatically. The crate will begin drifting off to sea.
Progression
Patch changes
Hotfix (2016-07-21):

The quest "The Future of the Rockpool" can again be completed.



Patch 4.0.3a (2010-11-23): Added.

External links