Objectives
Use the Horn of Cenarius to help you slay Azralon the Gatekeeper.
Provided item:
 [Horn of Cenarius]
Description
According to these tomes, one of Ragnaros' most powerful lieutenants serves as the sole gatekeeper to Sulfuron Spire.
You won't be able to defeat him alone.
Sound this horn when you engage in combat with Azralon and any of our forces in the vicinity will come to your aid.
You must hurry, <name>. It won't be long before the Firelord realizes what we're up to.
Rewards
Progress
You've returned, <name>?
Completion
It is done. Only the final step in your mission remains.
Notes
Pick up

 [30-35] The Sanctum of the Prophets before heading out. Fly west back toward Sulfuron Spire, but take a right heading north at the fork to get to the sanctum. Azralon is a boss-level flamewaker with 357,000 health at [57.2, 68.0]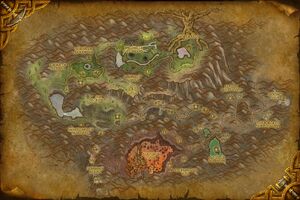 in the middle of the sanctum with the following abilities:
Evil Cleave — Inflicts 339 to 340% of normal melee damage to an enemy and its nearest allies, afflicting up to three targets. Next melee. 6000-7000 damage
Fire Nova — Inflicts fire damage to nearby enemies. 4400-4600 Fire damage
Clear the cultists in front of him, then use the horn to call for help. Let the Nordassil Druids get initial aggro on him, then unload. He can kill the druids fairly quickly, so move fast! At 50%, Goldrinn will join the fight.
Azralon the Gatekeeper yells: Feel the fury of Ragnaros!
Goldrinn yells: You know nothing of fury, worm!
On victory:
Goldrinn says: Let this be a lesson to those who would defile Hyjal.
Goldrinn takes his leave with one powerful leap.
Complete Jarod's and Aronus's forks before Cenarius will offer

 [30-35] The Firelord.
Progression
Patch changes
External links