Objectives
Use the Talisman of Flame Ascendancy and slay Garnoth, Fist of the Legion, at the Gates of Sothann in Hyjal.
Provided item:
 [Talisman of Flame Ascendancy]
Description
We took Darkwhisper Gorge from the demons of the Burning Legion by force. We've held on to our territory pretty well so far, with one exception.
We recently lost the Gates of Sothann to a pit lord and his army. We cannot allow this to stand.
Use this talisman when you're near him. You'll gain the powers of a flame ascendant temporarily. Make it count.
Rewards
Progress
You're back!
Completion
Excellent work, <name>damus. We must show all would-be competitors that we are not ones to give up easily.
Notes
Pick up

 [30-35] Twilight Territory before heading out. Head west past the proving grounds, then turn south and head up the hill to reach the Gates of Sothann. Garnoth is at [64.8, 64.7]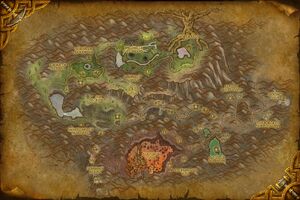 the far western end of the gates. An 81 elite pit lord, he has 1,115,000 health. Pop the talisman to ascend with two abilities:
  Ascendant Strike Melee range — Deals damage equal to 5% of Garnoth's maximum health Instant (1.5 sec cooldown)
  Flame Shield — Reduces damage taken by 95% for 10 seconds. Instant (6 sec cooldown)
Entering ascended form also grants a good bit of HP. The act of ascending will aggro Garnoth, so quickly use the shield then start wailing on him.
Ascendant Strike only works on Garnoth, so don't bother trying to use it on other enemies. Not that 5% of health is all that much on non-elites...
Progression
Patch changes
External links