Objectives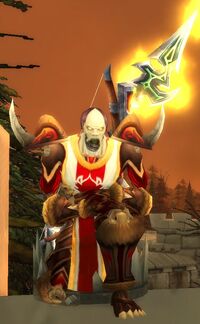 Slay Huntsman Leopold
Description
We've already lost half a dozen men to a hail of bullets and arrows coming from atop this fortress. I haven't seen the face of the enemy that's firing, but I don't need to. I know the name of the man up there.
That's right, there's only one man up there, picking off my men one-by-one. And from what I can see, there's only one of you.
Sounds like a fair fight to me.
Progress
If it were up to me, I'd throw him off the edge of the tower.
Completion
One less thing to worry about. Nice work up there.
Rewards
You will receive: 55

Notes
On aggro:
Huntsman Leopold yells: I'll fill your corpses with arrows!
Progression
Patch changes
External links