Objectives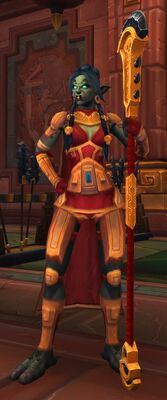 Confront Enforcer Malzon in the Zocalo.
Description
This situation can be swiftly dealt with if we take out de one that incited this violence.
I heard reports of an enforcer rousing de vagrants and drudges against de shopkeepers and guards in de Zocalo.
One of my own would not do this without cause. See if you can determine de reason for this sudden change.
I am told her name is Malzon. I hope for her sake that she surrenders.
Rewards
You will receive:
Progress
Did you deal with de instigator?
Completion
If I understand de situation correctly, her concerns did not arise by chance. Be wary, <name>.
Notes
Enforcer Malzon is located in the North Rastari Garrison. In front of her are two dead Rastari Enforcers and an Eye of Samara.
Aggro

Enforcer Malzon says: De Horde will be ousted from our city!
Defeated

Enforcer Malzon says: Spare me! De White Widow filled my heart with lies... I see de truth now.
Enforcer Malzon says: De Horde are not de enemy. Forgive me.
On returning to Talanji, the Zocalo and Zanchul are in chaos, having been under the attack of Mutinous Zanchuli Devouts.
Progression
Patch changes
External links