Objectives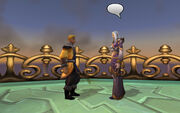 Use the Portal to the Purple Parlor in Lion's Landing and meet with Anduin Wrynn.
Description
<Name>, King Varian has asked that I send you after his son to Dalaran. He believes you can help negotiate the withdrawal of blood elves there.
These "Sunreavers" claim fealty to the Horde and represent a major threat to the war effort.
Now that our very own Jaina Proudmoore is in charge of the Kirin Tor it should be easy to convince her to remove this Horde threat to her city.
Use the portal here in Lion's Landing to go to the Purple Parlor and lend what aid you can to Prince Anduin.
Rewards
Completion
I am glad to see you, friend. While I have learned much about diplomacy I think Jaina is too familiar with my tactics.
I could use a friendly hand in resolving this conflict.
Gains
Notes
Seamus Goldenkicks will spawn a special Portal to the Purple Parlor at [89.2, 33.6]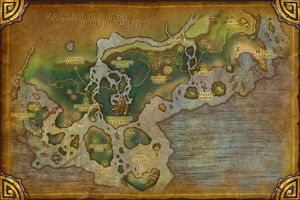 next to him. Using the Violet Hold loading screen, the adventurer will teleport to a phased version of the Purple Parlor of Dalaran.
As the adventurer teleports in:
Anduin Wrynn says: My father isn't asking you to pledge the Kirin Tor to the Alliance-
Lady Jaina Proudmoore says: Anduin, I know exactly what he's asking. Oh - look who's arrived.
Step outside to the balcony to speak with Anduin.
Progression
Patch changes
External links