For other uses, see Last Guardian (disambiguation).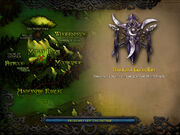 The Last Guardian is an interlude in the night elf campaign Eternity's End. It represents the first time several major events are depicted in-engine.
Videos
Loading screen
Two days later, in a tranquil glade of Mount Hyjal...
Transcript
The raven lands and transforms into the Prophet.
The Prophet: Peace, Priestess. They've come to aid you against the Legion.
The Prophet: Years ago, I brought the orcs into this world, and by doing so, I opened a path for the demons as well.
The Prophet: Despite my death, war raged across the lands of the east for many long years, leaving entire kingdoms devastated in its wake.
Notes
In the Reforged version of the interlude, Medivh is shown being killed by knight Anduin Lothar and mage Khadgar instead of shown as just being killed by a Captain accompanied by five footmen, whom were implied to be Anduin Lothar and his companions
Gallery