The Light Reveals
For the Class Hall quest, see   [98 - 110] 

The Light Reveals

. For the cut Legion mission, see  

The Light Reveals

.
The Light Reveals
Requirements
Class
Paladin
Artifact
 

[

Truthguard

]

Properties
Affects
N/A
Related buffs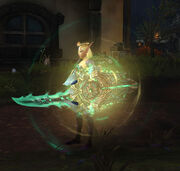 The Light Reveals is a hidden Protection paladin artifact trait. It does not appear in the spellbook nor in the
 [Truthguard] artifact tree window.
When standing near a demon in disguise, the ability
[Eye of Tyr] will appear on the screen like a zone ability and the message "The Truthguard hums with anxious energy. Something demonic must be disguised nearby!" will appear. Truthguard will hum and spark, then emit a disc-shaped glow from the center of the shield.
Hidden demons
Notes and trivia
Patch changes
External links