Objectives
Board your raft, then report to Wise Ana Wu in the middle of Nayeli Lagoon.
Description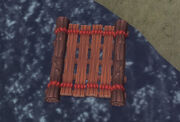 Your raft is down in the water below. Take it out to the middle of the lake, where you should find a woman. Her name is Ana Wu.
Whenever I have a question that I can't figure out on my own, I'll ask her. She should be able to tell us why these crocolisks won't stop attacking.
Rewards
Completion
You appear troubled, child.
How can this Lorewalker serve you? What is it that you seek?
Gains
Notes
Hop on to the raft and click on it.
Max Narstave says: That raft is all yours, neighbor. You ever want to go rafting, just come back here. It'll be waiting for you.
Head west-southwest out into the open water to find Wise Ana Wu.
Progression
Patch changes
External links