For the ship in Menethil Harbor, see Maiden's Virtue.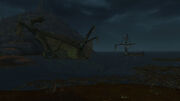 The Maiden's Virtue was a ship docked in Bridgeport in Tiragarde Sound, Kul Tiras. It was a smuggler ship run by Captain Keelson and her crew. During the quest

 [10-50] Stow and Go, the player gets to follow how The Maiden's Virtue is lured in by sirens, and unfortunately crash into the rocky shores of the Wailing Tideway.
Crew
North Sound Ferry

The Maiden's Virtue