The subject of this article was removed in patch 4.2.0 but remains in World of Warcraft: Burning Crusade Classic.

This includes items and quests that can no longer be obtained or are now deprecated.
The categories should reflect this, and should not include retail realm categories.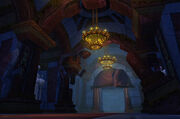 The Master's Key was the key (and attunement) to enter Medivh's tower of Karazhan in Deadwind Pass. It is a reward from the quest

 [70] Return to Khadgar. In order for your raid to enter Karazhan, only one person needs to possess the key.
Quest chain at a glance
Main article: Karazhan Quest Progression
The key can be obtained by completing the following questline, which begins with Archmage Alturus just outside Karazhan:
The whole questline rewards 2100 reputation with the Violet Eye.
Access requirements
Some of the quests in this chain have access requirements that may sidetrack a player. These include access into:
Patch changes
Patch 4.2.0 (2011-06-28): Removed. The Karazhan gate no longer requires a key to open.

Patch 2.4.0 (2008-03-25): No longer required to enter Karazhan, but still required to open the gates.

Patch 2.0.3 (2007-01-09): Added.

External links