The Missing Admiral (beta)
The subject of this article or section did not make it out of the beta stages of World of Warcraft: Mists of Pandaria.

The in-game information in this article or section is kept purely for historical purposes.
For the live version, see  [86] 

The Missing Admiral

.
Objectives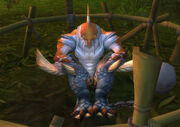 Find Admiral Taylor.
Description
Your Commander has filled me in on your mission. Who you really need to talk to is Admiral Taylor.
He was leading the search for Anduin, but he was unfortunately captured during the last hozen attack.
The hozen are known to take prisoners, so there's a good chance he is still alive.
If you can find Taylor, you may find your White Pawn.
Rewards
You will receive:
Completion
<You found him, but the Admiral is unconscious. He looks on the verge of death.>
Notes
Pick up

 [86] The Mission Continues before heading out. Follow the path up to the northeast, then immediately take a right once reaching the ridge and head down to the beach to get to Sapphire's End. Turn in The Mission Continues and pick up the offered quests. Complete that series of quests, culminating with

 [86] Without a Trace to shed more light on the Anduin situation before blowing up a ship! Once the evidence has been cleared, head back up to the path and keep going inland, to the northeast. At the big fork in the road, head left, then exit the path off to the right at the Slingtail Pits. Admiral Taylor can be found in a hozen cage near the middle of town.
On complete:
Bold Karasshi says: Your friend put up quite the fight. He nearly escaped, but now he is a prisoner, just like the rest of us.
Speak with Bold Karasshi to continue.
Progression
Patch changes
External links