The Path of War
Taylor fought against the hozen like a wild beast. He is a great credit to your people!
But in the end, he was overcome.
Objectives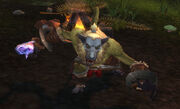 Kill 12 Slingtail Treeleapers or Slingtail Mudseers.
Slingtail hozen slain x12
Description
I see you want to save your friend. I can help you, if you will help me.
First of all, it should be obvious that the fewer the Slingtail roaming around, the easier it will be to escape.
Kill the hozen guards around us, and we will be one step closer to freedom.
Rewards
Progress
You fight well, foreigner.
Completion
Ahahaha! You are brave.
An admirable trait.
Gains
Notes
Pick up

 [86] Freeing Our Brothers and

 [86] Ancient Power before heading out. Go killing, freeing, and looting until all quotas are met.
Progression
Patch changes
External links