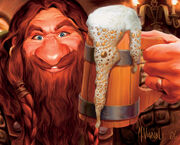 Objectives
Bring 7 Shimmerweeds to Rejold Barleybrew in the Brewnall Village.
Description
I'm on a quest to make the perfect stout. I know I can do it -- brewing's in my blood. I just need to find the right recipe...
The Frostmane trolls grow a plant, shimmerweed, up on Shimmer Ridge to the northwest. They use it in their strange, tribal rituals. We haven't found much use for it, but it has a unique taste... and I want to experiment with it in my brews!
Obtaining the shimmerweed will be dangerous, but I'll pay well for any you can "borrow" from the baskets in the troll village.
Rewards
You will also receive:
Progress
Do you have that shimmerweed? I almost have a batch of stout ready to brew, and I want to try throwing the weed in with this mixture.
Completion
Great!  I can't wait to use these in some of my recipes. There's one in particular I think it'll work great in...
Patch changes
See also
External links