The Secrets of Zul'Ahjin
Objectives
Investigate the statue.
Description
You're not the only one who came to Zul'Ahjin looking for answers. The place is crawling with looters and assassins, all searching for something...
So far, they've come up empty handed, but that's because they don't know where to look.
I do.
Investigate the statue at the center of the ruins. It is the key to uncovering the city's ancient secrets.
Rewards
You will also receive:
Completion
<The ancient stones hum with magic.>
Notes
The Crumbling Statue is located in the central ruins at [48.8, 74.4]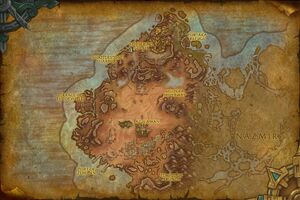 . On your way there, you can also visit a vulpera-occupied building and complete

 [110 - 120] Magic Decoder Device, which is followed up by

 [110 - 120] Rescue the Relics,

 [110 - 120] Expedite the Excavation, and optionally

 [110 - 120] Exterminate the Vermin, leading to

 [110 - 120] Power of the Overseer.
Progression
 [110 - 120] 

Knowledge of the Past

 [110 - 120] 

Searching the Ruins

 [110 - 120] 

Creeping Death

&  [110 - 120] 

Nature's Remedy

 [110 - 120] 

Effective Antivenom

Side chain:  [110 - 120] 

Magic Decoder Device

 [110 - 120] 

Expedite the Excavation

&  [110 - 120] 

Exterminate the Vermin

(optional) &  [110 - 120] 

Rescue the Relics

 [110 - 120] 

Power of the Overseer

 [110 - 120] 

The Secrets of Zul'Ahjin

 [110 - 120] 

Hollow, Empty Eyes

 [110 - 120] 

Sulthis' Stone
Patch changes
External links