For the Horde version of this quest, see  [10-30] 

The Shell of Shadra

.
Objectives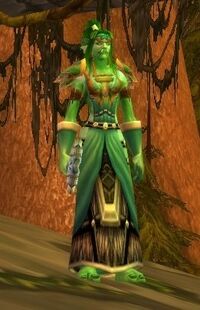 Kill Qiaga the Keeper and collect the Shell of Shadra.
Description
The final piece is all we need to burn Shadra out for good.
The Shell of Shadra is held by the spider god's last living high priestess, Qiaga the Keeper. She stands atop the Altar of Zul, guarded by other fanatical zealots.
You've got to climb that altar to the top and take her out! She'll have the Shell in her possession. Bring it back here.
Rewards
You will also receive: 35
Progress
Do you have it?
Completion
This is it, <lad/lass>! We're ready!
Progression
 [10-30] 

The Eye of Shadra

 [10-30] 

Starvation Diet

 [10-30] 

The Fang of Shadra

 [10-30] 

The Shell of Shadra

 [10-30] 

Summoning Shadra

 [10-30] 

Shadra the Venom Queen
Patch changes
External links