The Sleepless Legion (Alliance)
The Sleepless Legion

Start
Captain Elleane Wavecrest [62.7, 73.6]
End
Captain Elleane Wavecrest [62.7, 73.6]
Level
90 (Requires 90)
Type
Daily
Category
Isle of Thunder
Experience
236000
Reputation
+150 Kirin Tor Offensive
Rewards
19 84 50 2
Repeatable
Yes
Objectives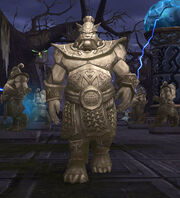 Kill 6 Animated Warriors.
Description
The Shan'ze are animating an army from the statues in the center of the isle, an army that batters our defenses day and night. Destroy any of the walking statues you see. Our defenders will greatly appreciate it.
Rewards
Progress
You are not done just yet, <class>.
Completion
Your efforts are appreciated, <class>.
Gains
Notes
More Animated Warriors are active than not, so don't go too crazy.
Progression
Patch changes
External links