The Sundered Shard
For the elemental in Netherstorm, see Sundered Shard.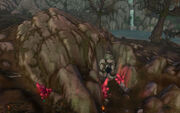 The Sundered Shard is the remains of the top of the Lifeblood Pillar after the Scourge used the Cult of the Damned to blow up the area using explosives.
The area is filled with Lifeblood Elementals and minions of the Scourge. Artruis the Heartless commands the Scourge forces in the area.
External links