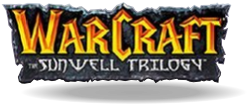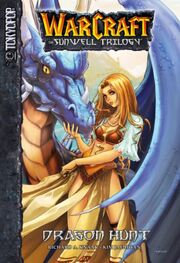 The Sunwell Trilogy is a manga trilogy set in the Warcraft universe.
Characters
Books
Volume 1: Dragon Hunt

The Prey of Harkyn Grymstone
Pursued
Dar'khan
Legacy of the Sunwell
Tarren Mill
Against the Scourge

Volume 2: Shadows of Ice

Terror on the Mountain
Baron Mordis
Caverns of the Dead
The Dwellers beneath
The Orb of Ner'zhul
Death on the Mountain

Volume 3: Ghostlands

The Nightmare Plains
Master of the Dead
Cry of the Banshee
Dark Reunion
Edge of the Abyss
Fire and Fury
Gallery
Trivia
...I was only familar with Jae-Hwan's work from the visceral King of Hell series, it was clear from the get-go that his super detailed (yet totally gritty) art style would capture the Warcraft feel perfectly. Translating Warcraft's over-the-top hyper proportionate art style to the 'manga style' was tricker than one might think - but Mr. Kim made it look effortless. Now, I know I'm a bit biased, but I think this book is one of the most strikingly illustrated manga series on the market today.
- Chris Metzen, from the Afterword, in the Sunwell Trilogy Ultimate Edition.
Notes