Objectives
Take the Pure Twilight Egg to Aronus at the Gates of Sothann in Hyjal.
Description
The egg is unlike any that you've seen before. Its translucent shell appears to bend the light around it.
Accompanying it, you find a note describing the arrival of a fertile broodmother at the Ascendant's Rise.
Perhaps you should show this to Aronus.
Rewards
Completion
You were right to come tome with this, <name>. This represents a great threat to us if we do not act swiftly and boldly.
Notes
On

 [30-35] Might of the Firelord and

 [30-35] Secrets of the Flame, players are sent to the Ascendant's Rise on Mount Hyjal. The egg can be found at [59.1, 83.9]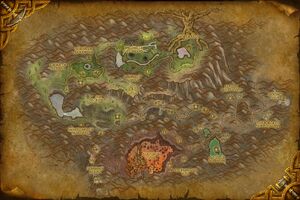 on a cart near the southern end of the rise.
Aronus is next to Shadowsong and Cenarius at the gates.
Progression
Patch changes
External links