The Twin Blades of Azzinoth
+18 Agility
+39 Stamina

+19 Critical Strike

The Twin Blades of Azzinoth (2 pieces)
(2) Set: Your melee attacks have a chance to increase your haste by 180 for 10 sec.
(2) Set: Increases attack power by 84 when fighting Demons.
Combined stats.
The Twin Blades of Azzinoth are a legendary weapon set that are wielded by the Lord of Outland, Illidan Stormrage. Equipping both blades awards the Feat of Strength,

 Warglaives of Azzinoth. They drop from Illidan Stormrage in the Black Temple.
History
The Twin Blades of Azzinoth are a pair of fel green warglaives wielded by Illidan Stormrage.[1] Azzinoth was a doom guard commander whom Illidan slew 10,000 years ago. Illidan took Azzinoth's twin warglaives and trained himself to use them. He has become exceedingly efficient with the weapons. When Illidan used the twin warglaives they were usually connected, but could be disconnected to form separate weapons. Once disconnected they could be reconnected to form a single weapon once more.[2][3][4][5] During his imprisonment, they were paraded near his cage.[6] The pit lord Magtheridon proved to be no match for the wielder of the Twin Blades of Azzinoth.[7] Illidan used them in battle against Arthas Menethil and his Frostmourne.
The ancient soulbinds linking Illidan to the twin blades allows Illidan to summon them to him.[6] It is unknown if this can be done from anywhere or if Illidan has to be within a certain distance from the weapons to call them.
Items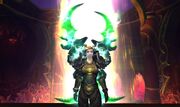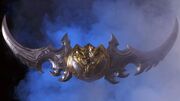 The Twin Blades of Azzinoth
Item Level

90

Sword
Speed 2.60
23 – 39 Damage
(11.9 damage per second)
+9 Agility
+20 Stamina
The Twin Blades of Azzinoth (

1/

2

 pieces

)
(2) Set: Your melee attacks have a chance to increase your haste by 180 for 10 sec.
(2) Set: Increases attack power by 84 when fighting Demons.
 
Durability 130 / 130
Classes: Warrior, Rogue, Death Knight, Monk, Demon Hunter
Requires Level 70
Notes and trivia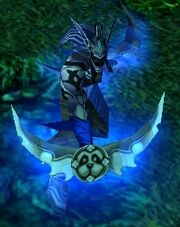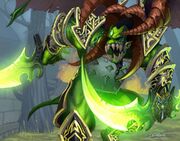 Patch changes
References
External links
 

Encounter-limited weapons
 

Items
 

Quest items
 

Removed from game

Permanent weapons
Encounter-limited weapons
Items
Quest items