Not to be confused with Captain "Jewels" Verne or Vern.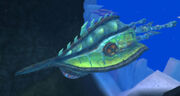 The Verne is a goblin submarine operating in the Abyssal Depths of Vashj'ir, commanded by (and presumably named for) Captain "Jewels" Verne. It temporarily ports at the Horde base camp at the Tenebrous Cavern until

 [30-35] Defending the Rift, when it is destroyed by the naga and their faceless allies.
Trivia
Another submarine called The Verne can be seen docked at the Frostwall Shipyard in Draenor. The name is only displayed when being on top of the ship itself and doesn't appear in the list of random submarines that can be built at the shipyard, so it may be just a side-effect of copy-pasting the same model as used in Vashj'ir.
Patch changes
External links