The Vintner's Assistants

Start
Meerah
End
Meerah
Level
50 (Requires 50)
Category
Allied Races
Rewards
11 70
Previous
 [50] 

Meet with Meerah

Next
 [50] 

Playing to Their Strengths
Objectives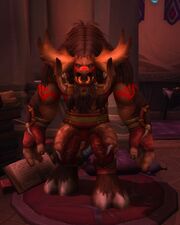 Speak to Micah Broadhoof, Boss Mida, and Nomi.
Speak to Micah Broadhoof
Speak to Boss Mida
Speak to Nomi
Description
Vintner Iltheux oversees all arcwine production for the Horde.
He's used to making wine himself, but the Horde sent in help to speed up the process.
It's had the opposite effect.
We need to get to the bottom of this.
How about you tour the vineyards and see how things are running? I have a few more questions for the vintner.
Rewards
You will receive:
Progress
Have you had a chance to see how things are running?
Completion
It sounds to me like we've found our problem.
Notes
Micah Broadhoof can be found in a small building,[61.2, 55.2]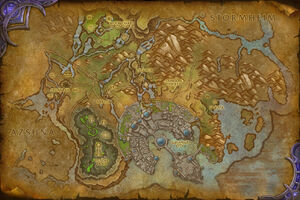 reading a scroll.
Greetings, <name>.
I've never made wine before, but it can't be too difficult, can it?
 What are you tasked with?
Iltheux has put me in charge of the vintage. I decide what goes in the wine to make it palatable for the Horde.
Boss Mida can be found just southwest of Micah,[60.6, 56.2]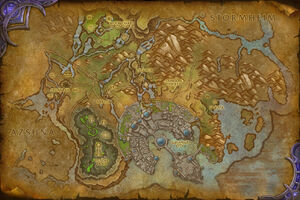 watching her assistant Kazit doing his best to stomp on the fruit in a large vat.
Look at Kazit, workin' so hard.
He'll get the hang of it eventually.
 What are you tasked with?
Iltheux tells me to jump in the vat, so I tell Kazit to jump in the vat. Easiest job ever.
At the same time as you ask what Mida is doing, she dishes out some verbal punishment to her assistant:
Boss Mida yells: Don't get lazy on me, Kazit!
Finally, Nomi can be found in the orchard in the east part of the vineyard.[62.4, 57.6]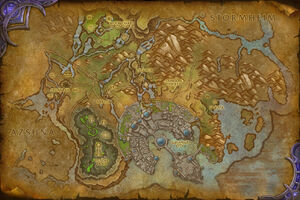 He is sleeping next to the fountain, and although he wakes up when you talk to him, he quickly resumes his sleeping position as soon as you finish:
Greetings, Master <name>. I was just resting my eyes for a moment. How can I help you?
 What are you tasked with?
I'm gathering ingredients for the wine, but it's a tiring job. I think I'll just take another quick break...
Head back to Meerah to turn in.
Progression
 [50] 

No Problem Too Small

 [50] 

A Little Goodwill

,  [50] 

Worthwhile Repairs

&  [50] 

Peon Promotions!

 [50] 

Strength and Honor

 [50] 

Job's Done

 [50] 

On the Outskirts

 [50] 

We'll Use Their Weapons

,  [50] 

Explosions Always Work

&  [50] 

Destroying the Source

 [50] 

Threat Contained

 [50] 

Meet with Meerah

 [50] 

The Vintner's Assistants

 [50] 

A Particular Process

 [50] 

Sip and Savor

 [50] 

Awaiting Our Arrival

 [50] 

New Allies Among Us
Patch changes
External links