Objectives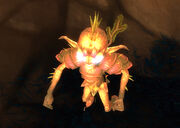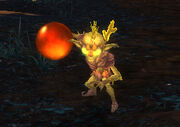 Kill 10 Agitated Root Sprites.
Agitated Root Sprites slain x10
Description
I can't catch the little buggers for the life of me.
Kill any you can get your hands on. And keep a close eye on your valuables, they like to steal anything that isn't tied down.
Rewards
Progress
I haven't hated plants so much since my job back at Halfhill.
Completion
I guess you're a bit faster than me. Well, thanks.
I'll try to finish collecting some orbs and get them back to camp while there's still some face to save.
Gains
Notes
On the way down to the Ambermarsh for

 [25-35] Improvised Ammunition, Initiates Feng and Chao offer Thieves and Troublemakers and

 [25-35] In the Wrong Hands. Pick them up before descending into the marsh.
Start killing sprites. They stand a chance of dropping orbs, but they mainly can be found near the big amber orbs on trees around the pools. To find the sword, head west out of the main pools area. Needlebottom can be found in a large depression at the west end of the marsh. He does count for Thieves and Troublemakers, too.
Progression
Optional breadcrumb:

 [25-35] Gao-Ran Battlefront
Patch changes
External links