Throne of the Four Winds
TotFW, Tot4W, SWR, TFW
Location
Skywall (Uldum) [38, 81]
End boss
Al'Akir
Instance info
Type
Raid
Advised level
85
Player limit
10/25
Throne of the Four Winds is a raid in the Skywall complex, introduced in World of Warcraft: Cataclysm. It can be found off the southwest coast of Uldum at [38, 81]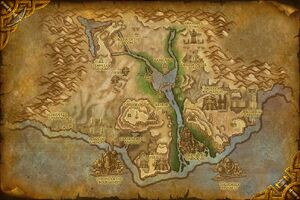 high in the air.
Along with Bastion of Twilight and Blackwing Descent, Throne of the Four Winds serves as an entry-level raiding instance, much as the level 80 version of Naxxramas was for Wrath of the Lich King and Karazhan was for the Burning Crusade.[1]
Description
With Deathwing's return, Al'Akir is once again free to walk the winds of Azeroth. He has become one of the Destroyer's staunchest and most powerful allies, and called the Conclave of the Four Winds, ancient wind elementals nearly as powerful as Al'Akir himself, to aid in the elemental invasion of his former home.
Al'Akir's temperament is that of the sky: calm one moment, and furious the next. But some few aspects of the Windlord can be said to be consistent. He possesses godlike power that will buffet and shake Azeroth if left unchecked - and he will not allow himself to be chained again.[2]
Dungeon Journal
Al'Akir the Windlord's personal lair, the Throne of the Four Winds, glides high among Skywall's boundless vistas. Now that the barriers of the Elemental Plane have been ruptured, Al'Akir is free to travel Azeroth's winds at his leisure. He has mustered his fiercest tempests to scour Uldum of life and seize control of the mysterious titan-forged Halls of Origination.
Geography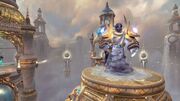 Encounters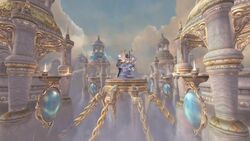 The raid contains two encounters, the Conclave of Wind - djinn warlords who seek to prove themselves to their master - and Al'Akir himself, who resides in the middle of the instance. It is one large instance (as opposed to a larger instance divided into multiple sub-areas). The fights involve traveling between various platforms via winds that act as pseudo-bridges.
Loot
Achievements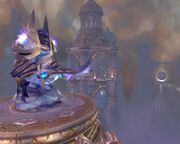 References
External links
| Throne of the Four Winds | Uldum | Shaman scenario | Uldum assault |
| --- | --- | --- | --- |
| | | | |

Icy Veins
 Comprehensive encounter guides for Throne of the Four Winds