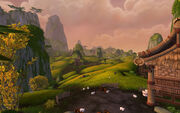 The Thunderfoot Fields can be found in the easternmost reaches of the Valley of the Four Winds north of the Yan-Zhe River. It comprises Pang's Stead, Shang's Stead, Thunderfoot Farm, Thunderfoot Ranch, and Shang's sheep farm.
The fields are controlled by the Thunderfoot family and their employees. Snagtooth virmen have been rampaging through their fields stealing crops, tools, and just being a nuisance.
Notes and trivia
Most of the areas that deal with quests in these fields have an associated subzone, except for the sheep farm, that is watched over by Francis the Shepherd Boy.
During the early beta, it was named Thunderfoot Acres.
Gallery
Patch changes
External links