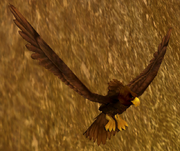 The Tickbird Hatchling can be found inside the

 [Mysterious Egg] which is sold by Geen in Sholazar Basin for 2

90

. This requires revered reputation with the Oracles.
Pet Journal
Unlike most of Geen the gorloc's 'mysterious eggs,' this one actually contained a living thing.
Battles
Notes
The Tickbird Hatchling is a non-combat pet like the critters found in Sholazar Basin riding around on the shoulders of the Wooly Rhinos in that zone.
It flies much higher than most companions, staying above the player, rather than flying around closer to waist-level as with most pets.
Patch changes
External links
Battle pet types
Flying battle pets

Archetype of Motion

Archetype of Satisfaction

Battie

Bloodsucker Vespoid

Dusty Sporeflutterer

Enraged Poultrid

Fluttering Glimmerfly

Foulwing Buzzer

Fuzzy Shimmermoth

Gilded Wader

Helpful Glimmerfly

Larion Pouncer

Multichicken

Necroray Spawnling

Pearlwing Heron

Scarlet Proto Avian

Sinfall Screecher

Stony

Tickbird Hatchling

Vibrant Glimmerfly

Wader Chick

Wild Etherwyrm