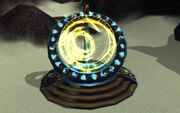 Time Transit Devices are transportation objects found in the latest Caverns of Time instances.
Unlike past teleportation devices, these can only be used one player at a time, and will have it's portal vanish for a second while it transports a player. This causes groups of players to wait while they'll move across the zone.
Quotes
End Time gossip
Select your destination.

 Entryway of Time


 Obsidian Dragonshrine


 Bronze Dragonshrine


 Emerald Dragonshrine
Well of Eternity gossip
Select your destination.

 Teleport to the garden entrance.

 Teleport to Azshara's Palace.

 Teleport to The Well of Eternity.
Patch changes
External links