Timeless Eye
Timeless Eye
"Forged in the breath of Anachronos the Ancient."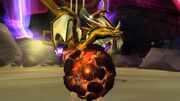 The Timeless Eye is created with the aid of the the players to test their worthiness to Anachronos, and to provide an essential tool in the unraveling of the mystery of the desctruction of Azeroth. It is created with Eternal Embers,

 [Sands of Time] and ancient magics weaved by Anachronos. Later the Eye unveil a mysterious event showing a meeting between Deathwing and Arygos.
Source
This item is provided for

 [85] On a Wing and a Prayer.
Patch changes
External links