Tinkerer Gizlock is an elite goblin mini-boss that can be found in the Wicked Grotto wing of Maraudon.
Adventure Guide
Tinkerer Gizlock and five other gem hunters snuck into Maraudon to mine its highly prized crystals. Their plan went horribly wrong when satyrs slaughtered everyone in the party save for Gizlock. The goblin, trapped within the caves and driven to the brink of madness, sees himself as the subterranean region's new ruler.
Abilities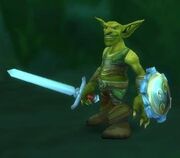 He can use a goblin dragon gun during the fight. This is a channeled effect, so you can back away from him and he won't follow you while he's breathing fire. He will also throw Flash Bombs.
Quotes
Mine! Mine! Mine! Gizlock is the ruler of this domain! You shall never reveal my presence!
Loot
Patch changes
External links