Tol Barad Commendations are currency used to purchase items sold by Pogg and Quartermaster Brazie on the Tol Barad Peninsula.
Commendations are rewarded from daily quests offered in either Tol Barad zone. You also receive 3 commendations for taking part in a Tol Barad victory for your faction. There are two sets of quest hubs: one on Tol Barad Peninsula that always available, regardless of who controls Baradin Keep, and another on Tol Barad at Baradin Keep, which is available to the faction that controls it:
On Tol Barad Peninsula, four NPCs offer a total of six quests from the 22 possible:
The second quest hub is in Tol Barad in the PvP area of Tol Barad located at [51.2, 49.3]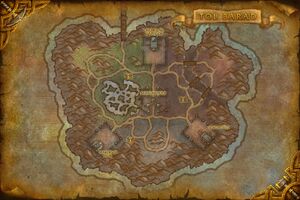 .
These three quests are always available:
Then, one of these three sets are available, based on which quest area is unlocked for this posession:
Rewards
External links