Objectives
Retrieve Tongo's Head.
Description
If Mojambo hired Tongo's gang as reinforcements, we're in even more trouble than we first thought.
Tongo is a cruel and sadistic marauder who takes great delight in suffering. His gang is notorious for torturing their prey.
We won't be able to defend ourselves against both gangs at once. Our only chance of survival now is to strike first.
If you take out Tongo before de ambush, Mojambo will be expecting reinforcements dat never arrive. We may be able to use dat to our advantage...
Rewards
You will receive:
Progress
Has Tongo been defeated?
Completion
With Tongo out of de way, all we have to worry about now is Mojambo...
Notes
Pick up

 [110 - 120] Bandit Blades and

 [110 - 120] Stolen Goods before leaving. Tongo is sitting in Tongo's Hideout[40.4, 76]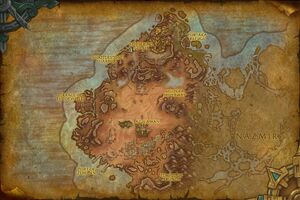 at Exiles' Enclave to the west with his two hyenas Gnarl and Snarl.
Progression
Patch changes
External links