Tony Two-Tusk is a jungle troll pirate found on Fray Island in the Northern Barrens. He also later appears in the Thousand Needles, first as a mob, then again as a quest giver as the Spirit of Tony Two-Tusk. He haunts the adventurer immediately after killing him during
 [15-30] Two-Tusk Takedown.
He later appears in Mount Hyjal as one of many well-known NPCs aiding in the fight against Ragnaros' forces.

This section concerns content related to the Warcraft novels, novellas, or short stories.
At some point after the Cataclysm, Admiral Tony Two-Tusk on his boat named Freebooters' Fire participated in MEGA's boat race in Thousand Needles. He had the black hat with a skull and crossbones on the head. His team consisted of the gnome Jinky Twizzlefixxit and the goblin Rugfizzle. Aramar Thorne considered them an odd group.[1]
Locations
Quests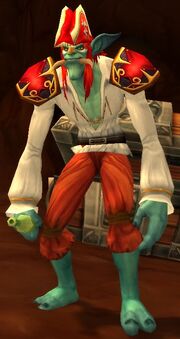 Northern Barrens
Thousand Needles
Abilities
Fan of Knives
  Poison — Inflicts Nature damage to an enemy every 3 sec. for 15 sec.
  Swashbuckling Slice — A strong attack that increases melee damage by 10%.
Quotes
Main article: Haunted#Notes
Notes
Gallery
Patch changes
References
External links