Toothy's Bucket
Use: Teaches you how to summon this companion.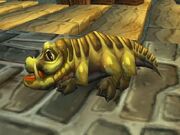 Toothy's Bucket can be used to summon Toothy, a crocolisk companion.
Source
This companion has a rare chance (~1.1%) to be found in
 [Bag of Fishing Treasures], a quest reward from


 [30 Daily] Crocolisks in the City.
Pet Journal
The crocolisk's hide and meat are prized by hunters, but the beast is ferocious and seldom taken by surprise.
Battles
Patch changes
External links
Battle pet types
Aquatic battle pets

Ambystan Darter

Ambystan Snapper

Archetype of Metamorphosis

Archetype of Renewal

Archetype of Serenity

Aurelid Floate

Brightscale Hatchling

Bufonid Croaker

E'rnee

Prototickles

Silvershell Snapper

Terror Jelly

Toothy

Venomous Bufonid