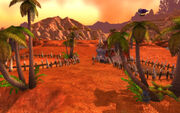 Tor'kren Farm[43, 30]

is located southeast of Thunder Ridge and north of the Southfury Watershed in northwestern Durotar. It narrowly missed being flooded by the Southfury River during the Cataclysm. It hasn't seen as much profit as other pig farms in the area. It was previously run by Misha Tor'kren and her son Kron, before Kron's death several years ago while hunting crocolisks in the Southfury River.
Misha now runs the farm alone, and while on the quest

 [1-30] Watershed Patrol she will ask for help creating a crocolisk tooth necklace in memory of her son.
External links