Torghast Antechamber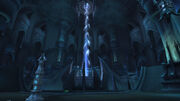 The Antechamber of Torghast, Tower of the Damned is where players first enter the tower.
From the antechamber, they have access to the six primary wings, of which two are available any given week:
In their first visit, they will discover

 [The Forgotten Key], which unlocks access to the Runecarver's Oubliette, somewhere else in the tower.
Later on, they will gain access to the Twisting Corridors.
Patch changes