Toshley
Toshley is a gnome quest giver who is in charge of Toshley's Station in the Blade's Edge Mountains.
Quests
Items
Quotes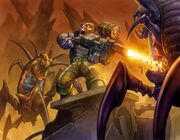 Gossip
Yeah, yeah... welcome to my station.
So, what do you think? Pretty nifty what we've done here, wouldn't you say?
Makes me glad to be rid of those stuffy elves at Sylvanaar anyway.
Make yourself useful around here: there're plenty of experiments and whatnot to help out with.
Trivia
Patch changes
External links