| | |
| --- | --- |
| | The subject of this article or section is part of Love is in the Air, a seasonal event that lasts two weeks. Once the event has run its course, this will no longer be available until next year, but there are no guarantees. |
Toxic Wasteling
Use: Teaches you how to summon this companion.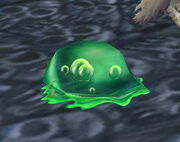 Toxic Wasteling has a chance to be in the

 [Heart-Shaped Box] and

 [Heart-Shaped Carton] from Apothecary Hummel, Apothecary Baxter, and Apothecary Frye in Shadowfang Keep during the Love is in the Air event.
Pet Journal
This, um, 'adorable' little guy likes to play with critters. Just don't let them get too close.
Battles
Magic: Cannot be dealt more than 35% of their maximum health in one attack.
Notes
Toxic Wasteling will grow in size if allowed to eat a critter. An easy way to test this is to go the the "Ninja Turtle" spot in the Dalaran Sewers and just stand by as Toxic Wasteling happily pounces on all of them one by one, dissolving their crittery flesh and growing in size. This appears to cap out between 4 or 5 critter-meals, though there is no physical buff or debuff to show stacks.
The Wasteling will also eat a Death Knight's bloodworms.
Patch changes
External links
Battle pet types
Magic battle pets

Anomalus

Archetype of Focus

Bubbling Pustule

Geordy

Maw Stalker

Omnipotential Core

Pocopoc

Resonant Echo

Shy Melvin

Sludge Feeler

Toxic Wasteling