For a school of Arcane magic, see The Schools of Arcane Magic - Transmutation.
Alchemy recipes
By skill

Classic
Outland
Northrend
Cataclysm
Pandaria
Draenor
Legion
Battle for Azeroth
Shadowlands

By type

Transmutations
Potions
Flasks
Battle Elixirs
Guardian Elixirs
Transmutation is a sub-skill of Alchemy. It is highly valued since it allows the transmutation of some metals, gems or elemental items into more valuable ones. Some items in-game are only obtainable through transmutation.
Requirements
All transmutations require the alchemist to have a
 [Philosopher's Stone] or any of the variants of the

 [Alchemist Stone] equipped or in their inventory.
Most transmutations are on a shared cooldown. The length of the cooldown varies by recipe, but prevents all transmutations until it has expired (including those which would initiate a shorter cooldown). Of note, however, the following transmutations do not have a cooldown:
Transmutation Master

"Allows an Alchemist to sometimes get greater results when transmuting materials" - When specialized as a

 [Transmutation Master], there is a random chance that you create more than one item when transmuting. It's possible to get up to 5 items in a single process.
It has been reported that, when averaged, Transmutation mastery grants an increase in resulting items of about 20%. Given that a single transmute can result in up to 5 items, long stretches of "no additional results" may result.
Becoming a transmutation master prevents you from being a

 [Potion Master] or

 [Elixir Master], however you can switch at any time by speaking with the Alchemy trainer in Orgrimmar or Stormwind:
Recipes
Artisan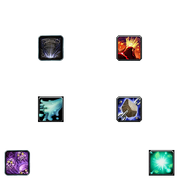 At 250 Alchemy, Alchemist Pestlezugg in Tanaris sells

 [Transmute: Iron to Gold] and

 [Transmute: Mithril to Truesilver]. At 275 he also sells

 [Transmute: Arcanite] which is noteworthy because it has no cooldown.
At 275, one may learn all of the elemental essence transmutes which are depicted by the diagram and outlined in the table below. These transmutes enable an alchemist to convert one type of elemental essence into another.
At 300, players may obtain

 [Transmute: Elemental Fire] from the Thorium Brotherhood with friendly reputation. This recipe does not initiate a cooldown.
Master

This section concerns content related to The Burning Crusade.
Primal Transmutations (275 skill)
Recipe
Source
Price
Air to Fire

Revered

with The Sha'tar
8
Fire to Earth

Revered

with Kurenai or The Mag'har
8
Earth to Water

Revered

with Sporeggar
25
Water to Air

Revered

with Cenarion Expedition
8
Fire to Mana
Discovery
-
Mana to Fire
Discovery
-
Earth to Life
Discovery
-
Life to Earth
Discovery
-
Water to Shadow
Discovery
-
Shadow to Water
Discovery
-
Might
Vendors in Shattrath, Exodar and Silvermoon
8
Grand Master

This section concerns content related to Wrath of the Lich King.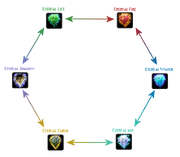 Performing any Grand Master-level transmutation can trigger discovery of an Eternal transmutation.
Trained transmutation recipes
Illustrious

This section concerns content related to Cataclysm.
There is only one spell for transmuting elements:

 [Transmute: Living Elements]. The elements created by

 [Transmute: Living Elements] are affected by the zone the player is in. The transmute always produces:
Transmutation mastery adds a chance to receive additional random volatile elements that are not determined by the zone the player is in.
Zen

This section concerns content related to Mists of Pandaria.
Draenor

This section concerns content related to Warlords of Draenor.
External Links

FranksPlace.org
 Cataclysm 4.3 Epic Gems and Jewelcrafting Patterns