Not to be confused with Trueshot Lodge.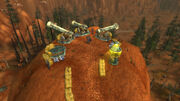 Trueshot Point is a small Alliance encampment near the entrance of Talondeep Pass in Stonetalon Mountains. It is used in the Alliance quest

 [10-30] The Only Way Down is in a Body Bag.
This subzone is not directly accessible from the rest of Stonetalon Mountains. The only way to Trueshot Point on foot is from the nearby Stardust Spire in Ashenvale.
Patch changes
External links