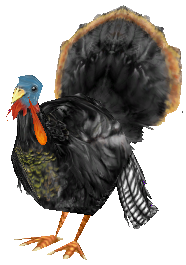 For the critter, see Turkey (critter).
Turkeys are a species of bird. Usually, they can only be found in the Howling Fjord, though species appear in Elwynn Forest and Tirisfal Glades during Pilgrim's Bounty.
Highlands Turkeys are capable of flying, unlike domesticated types.[1]
Types
Named
Gobbles is a friend of Commander Schnottz, transformed by an ancient curse. He is currently the highest level critter in the game.
As a companion
Notes
After being killed, they look like a cooked turkey.
References
Creature group
Beast creatures

 

Arthropod

Arachnid
Crustacean
Insect

 

Mammal

Carnivoran
Ungulate

Bovids
Camelids
Cetaceans
Proboscids
Swine
Creature group
Critter creatures

Amphibian
Arachnid
Bird
Crustacean
Fish
Insect
Mammal
Reptile
Other