"Speedy" redirects here. For the turtle in the Proving Grounds, see Speedy (NPC). For the Island Expedition rare mob, see Speedy (Island Expedition).
Turtle Box
Use: Teaches you how to summon this companion.

The subject of this article or section is part of Children's Week
, a
seasonal event
that lasts one week. Once the event has run its course, this will no longer be available until next year, but there are no guarantees.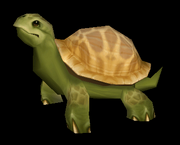 Turtle Box is one of the possible rewards from the quests

 [10-60] A Warden of the Alliance and

 [10-60] A Warden of the Horde during the Children's Week seasonal event.
It teaches the player to summon Speedy.
It can also be seen in Orgrimmar and Stormwind City.
Battles
Pet Journal
Slow and steady wins the race.
Notes
The other three item reward options from the quest line are

 [Rat Cage],

 [Piglet's Collar], or
 [Curmudgeon's Payoff]. Only one of these could be chosen.
Patch changes
Patch 8.1.5 (2019-03-12): Many items that grant companion pets have been adjusted in rarity, to better match the rarity of the resultant pet. The quality of pets was not changed.
Patch 1.4.0 (2005-04-19): Added.

External links
Battle pet types
Aquatic battle pets

Ambystan Darter

Ambystan Snapper

Archetype of Metamorphosis

Archetype of Renewal

Archetype of Serenity

Aurelid Floate

Brightscale Hatchling

Bufonid Croaker

E'rnee

Prototickles

Silvershell Snapper

Speedy

Terror Jelly

Venomous Bufonid