Twilight Shadowmages are elite Forsaken members of the Twilight's Hammer cult found in Moonshrine Ruins in the Blackfathom Deeps. They are accompanied by Voidwalker Minions.
Abilities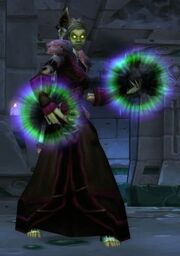 Void Blast — Inflicts 1,697 to 1,714 Shadow damage to an enemy. 
Quotes
All things must end.

My death feeds the Old Gods...

The Old Gods will be restored. You will not be allowed to interfere!

You will be consumed as well.

Your blood shall be the catalyst for the Old Gods' return!

The subject of this section has been removed from World of Warcraft but is present in Classic.
Aku'mai demands more sacrifices, now you must die!

Intruders! The Hammer shall fall upon you.
Patch changes
External links