For the similarly-named mobs, see Faceless Minion and Faceless Minion (Darkshore).
Twilight Summoning Portal
Use: Teaches you how to summon a Faceless Minion.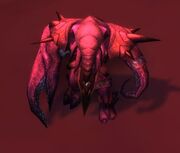 Twilight Summoning Portal teaches Faceless Minion, a rare drop from Cho'gall in the Bastion of Twilight.
Pet Journal
It has no eyes, but it always seems to be staring at you.
Battles
Magic: Cannot be dealt more than 35% of their maximum health in one attack.
Criteria of
Patch changes
External links
Battle pet types
Magic battle pets

Anomalus

Archetype of Focus

Bubbling Pustule

Faceless Minion

Geordy

Maw Stalker

Omnipotential Core

Pocopoc

Resonant Echo

Shy Melvin

Sludge Feeler