Twin Stein Set
Twin Stein Set
Use: Carefully crate the restored artifact.
"Artifact details have already been logged in your Archaeology Journal, under the Completed Artifacts tab."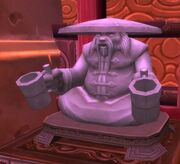 The Twin Stein Set is a common pandaren archaeology artifact, created from 50x

[Pandaren Archaeology Fragment]. Up to one
 [Pandaren Pottery Shard] may be used to solve this artifact. A pristine version can also be crafted.
Description
Twin Stein Set of Brewfather Quan Tou Kuo
A matching set of drinking steins, made of ebony and jade. Brewfather Quan Tou Kuo, "The Two-Fisted", sought to mitigate the side effects of strong drink by creating the perfect duality of brews. When imbibed together in the proper ratios, the Pale Ale of Spirit and the Dark Stout of the Mind combine in the drinker's stomach to achieve a state of enlightenment and goodwill without the loss of judgment and self-control so often experienced by less refined brews. Sadly, the Brewfather's secrets have been lost to time, but these lovingly crafted steins serve as a permanent reminder of his expertise.
Patch changes
External links