Two-Shoed Lou is a human quest giver who resides on Furlbrow's Pumpkin Farm in Westfall. A drifter, he is described by Lieutenant Horatio Laine as a "coincidental informant" and says he owes the Lieutenant a favor or two.
Lou once lived in a crate but, like the other squatters, is enjoying the fruits of the Furlbrows' labor following their murder. Though it is unclear how, he knows enough to reveal that there is something happening in the nearby Jangolode Mine and will loan the adventurer his former house. However, he does not want to hear what transpired there for fear of losing his life if he knows too much. He does reveal that he recently overheard some

 Thugs talking behind the farmhouse - and pays with his life when he reveals this information.
Quests
 [5-30] 

Meet Two-Shoed Lou

 [5-30] 

Livin' the Life

 [5-30] 

Lou's Parting Thoughts
Notes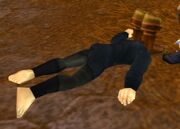 Patch changes
External links