Tyrael's Hilt
Use: Teaches you how to summon this companion.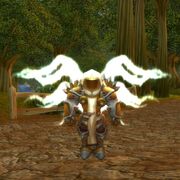 Tyrael's Hilt summons an in-game companion angel, Mini Tyrael. He responds to emotes such as /dance, and was one of the first companions to fly.
Source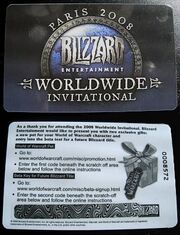 Participants of the 2008 Blizzard Worldwide Invitational in France were given a code that unlocked this pet in-game.
The item can be acquired from the following NPCs by redeeming the WWI promotion codes:
Tyrael's Hilt can still be obtained in-game, provided you have or somehow acquire an unused redemption code.
Pet Journal
'I am Justice itself!'
Battles
Humanoid: Recovers 4% of their maximum health if they dealt damage this round.
Trivia
His name and appearance comes from Archangel Tyrael, a character from Blizzard's Diablo series.
Patch changes
See also
External links
Battle pet types
Humanoid battle pets

Dal

Lightless Tormentor

Lost Featherling

Mini Tyrael

Rook

Ruffle

Spriggan Trickster

Steward Featherling

Winterleaf Spriggan