Not to be confused with Uldis.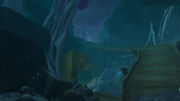 Uldir (pronounced "OOL-deer") is the first raid of Battle for Azeroth, situated in Nazmir. It is entered from the Heart of Darkness, with the door being in the southeastern part of the Altar of Rot.
Uldir was a titan research and quarantine facility where the titans conducted experiments on the Old Gods and dissected them to try to understand them. The titans' plan was to kill the Old Gods without ending their host: Azeroth.[1] They ended up accidentally creating something that could potentially wipe out all life on the planet, a fifth Old God named G'huun. It was locked away within Uldir via three seals, each located within the pyramids of Atul'Aman, Nazwatha, and Dazar'alor. With the fall of the last seal, nothing now prevents G'huun from spreading his rot and decay across the world.[2] A group of Horde adventurers entered Uldir to slay G'huun before he could break free.[3]
The Alliance travels through Uldir alongside Brann Bronzebeard, while the Horde is accompanied by Princess Talanji.
Adventure Guide
Millennia ago, seeking to understand the nature of their eternal foe, the titans constructed this sprawling underground facility to research and quarantine captured specimens. They hoped that by studying the void energy that bound the Old Gods, probing it for weaknesses and reactions, they could find some way to neutralize it. They were horribly, horribly wrong. The facility was sealed away so that the horrors within would never be unleashed upon Azeroth. But now those seals have broken...
Encounters
Halls of Containment
The doors of this ancient titan research facility open for the first time in millennia. What remains of the horrors sealed away?
Crimson Descent
The remnants of old experiments gone awry litter the lower halls of Uldir, as a dark power stirs within the depths.
Heart of Corruption
In foul pits, far beneath the halls of Uldir, the source of the corruption that has befallen Zandalar awaits.
Maps and subregions
Maps
Opening dates
Achievements
Loot
Notes
Videos
Patch changes
References
External links
Archives of Eternity

Chamber of Corruption

The Festering Core

Hall of Sanitation

The Oblivion Door

Plague Vault

Ring of Containment

Rot's Passage
Abandoned Ruin

Antul'Mita Plateau

Blood Bog

Collapsed Tunnel

The Frogmarsh

Krag'wa's Shore

Upper Frogmarsh

Lair of Xak'lar

Nazwatha

Razorjaw River

Takulu Bridge